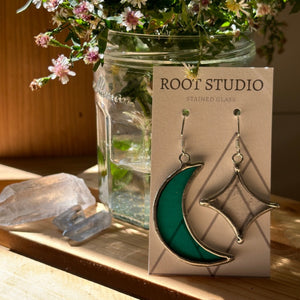 Adorn yourself with the beauty of the night sky with these delicate, celestial Star and Crescent Moon Stained Glass Earrings! Hand-crafted with shimmering iridescent and teal green shades, these earrings will have you feeling like the star you are!
Moons measure 1.5" long
Handmade in my stained glass cabin studio in rural Addison, Vermont. All of my jewelry is made in the traditional Tiffany copper foil stained glass method with lead-free solder.  Each piece of glass is traced, hand cut, edges smoothed out, foiled with copper tape, soldered, cleaned and finished with care. Because of the handmade nature of the glass and process no two pairs are exactly alike.