welcome to the root studio!
Stained glass studio in Addison, Vermont creating contemporary nature inspired stained glass gifts, home decor and unique stained glass jewelry.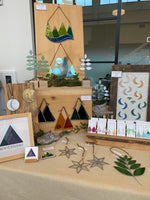 2023 Market Schedule
November 25th - Holly Jolly Market at Holly Hall, Bristol 12-4
December 2 & 3 - Good Trade Makers Market - Hula Lakeside Burlington 3-7
December 6th - LuLu Holiday Market - Vergennes 5-8
December 10th - Smatterings Holiday Market - Burlington Beer Company 1-6
December 12th - Huladay Holiday Market - Hula Lakeside Burlington 3-7
December 16th - Procrastinator's Paradise Holiday Market - Shelburne Town Hall 10-4
Testimonials
I have become captivated by my glass work earrings and moon necklace from Root Studios! I highly recommend 💓🌙!

Michaela
I adore Root Studio! Carrie's stained glass work is beautiful. I love seeing my feathers and mountains in my windows... the colors always brighten up my day! Great for gifts. And the earrings are gorgeous too!

Danelle
Absolutely beautiful earrings! Well crafted and packaged. I love them! 💜

Christina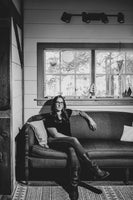 A little bit about Root Studio...
Chirpy forests, woodland critters, and snowy mountain tops. My love for Vermont and all things nature is where most of my inspiration comes from. Each original design is drawn on the glass, cut, sanded, hand foiled, soldered and then finished and polished in my stained glass studio cabin in Addison, Vermont.  I hope you enjoy this collection of stained glass as much as I enjoy designing and making them.
Carrie Root - Owner/Artist
Photo credit: owl iris photography