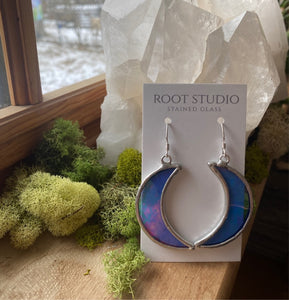 These Crescent Moon Earrings are handmade from iridescent purple stained glass, providing a timeless and unique look. The reflective nature of the glass catches the light, emitting a soft shine. These earrings give off a beautiful reflection, creating a unique and eye-catching accessory for any occasion.
Made with lead-free solder. A gift box is included with purchase. Moon measures 1.75 inches
Handmade in my stained glass cabin studio in rural Addison, Vermont. All of my jewelry is made in the traditional Tiffany copper foil stained glass method with lead-free solder.  Each piece of glass is traced, hand cut, edges smoothed out, foiled with copper tape, soldered, cleaned and finished with care. Because of the handmade nature of the glass and process no two pairs are exactly alike.